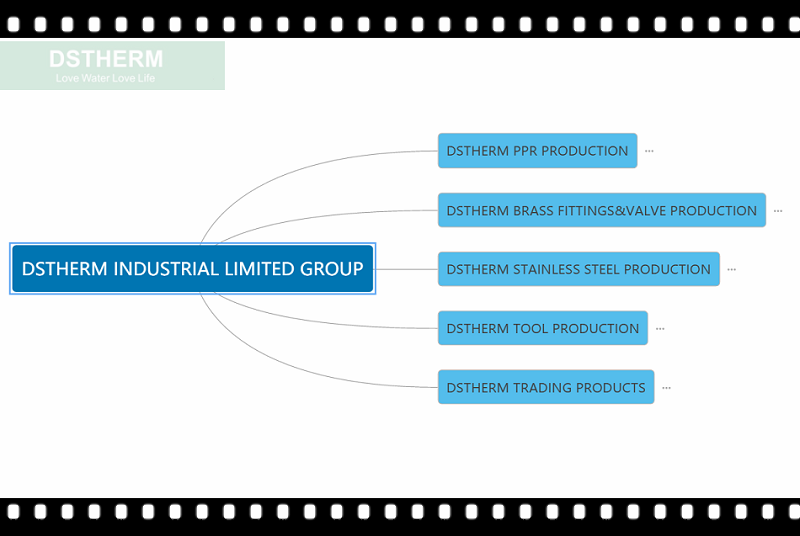 DSTHERM was founded in 2004, wins good reputation through more than 15 years hard works, Dstherm becomes a famous brand among worldwide customers.
DSTHERM owned factory which focuses on manufacturing and exporting different kinds of products. Its main commodities cover Ppr Pipe system(including Ppr Pipe,PP-RCT Pipe,Ppr UV Pipe,Ppr Fiber Pipe,Ppr Composite Pipe, Ppr-Alu-Ppr, Ppr Nano-Antibacterial Pipe, Ppr Copper pipe, PP-RCT Pipe and Ppr fittings with different designs) and brass products which include brass fittings, Such as Pex fittings,Press fittings,Compression fittings, Hose fittings, Flare fittings, Solder fittings, Brass Valves Such as Angle Valves, Gate Valve, Ball valves, Check Valves, Bibcocks, faucets, brass accessories and Stainless Pipe Fittings and Valves and so on.
Main of our products are exporting worldwide range,including European countries such as Germany, Italy, France,Holland, Austria, North American Market such as America,Mexico, Middle East such as Saudi Arabia, UAE, Asian Countries such as Thailand, Vietnam, Singapore, The Philippines and South America such as Brazil, Argentina, Chile. All of the products have enjoyed favorable reputation through high quality products and satisfied service with reasonable & competitive prices.
DSTHERM Agent is warm welcomed!
OEM Customers is warmly welcomed too.
Welcome to cooperate with us, we will be always on your side.
DSTHERM, Save Water, Enjoy Life!